Our Pools Mainpage: www.suprnova.cc. Our Twitter: twitter.com/SuprnovaPools Be sure to follow us for updates and news !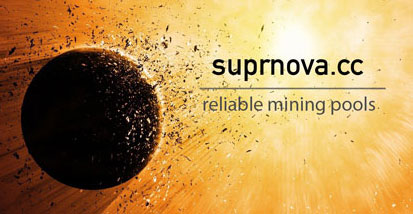 Suprnova's Ravencoin Pool // Algo: x16r // LIVE !
stratum+tcp://rvn.suprnova.cc:6667 (Backup-Port: 6666)
If you're looking for a fast, free miner: https://github.com/ocminer/suprminer/
Be aware that it's not recommended to use Nicehash on all Suprnova pools!
| | Gen. Est. | Found | Valid | Orphan | Orphan % | Avg. Diff | Shares Est. | Shares | Percentage | Amount | Rate Est. |
| --- | --- | --- | --- | --- | --- | --- | --- | --- | --- | --- | --- |
| All Time | 573,127 | 160,080 | 160,011 | 69 | 0.04 | 33,001.3220 | 346,067,732,942,214 | 284,561,179,659,024 | 82.23% | 800,055,631.0437 | 27.92% |
| Last Hour | 60 | 22 | 22 | 0 | 0.00 | 40,643.4866 | 58,599,453,864 | 33,053,911,278 | 56.41% | 110,000.1061 | 36.67% |
| Last 24 Hours | 1,440 | 379 | 379 | 0 | 0.00 | 47,375.4432 | 1,176,718,080,393 | 914,323,674,362 | 77.70% | 1,895,002.3552 | 26.32% |
| Last 7 Days | 10,080 | 2,552 | 2,552 | 0 | 0.00 | 47,101.5269 | 7,877,630,143,929 | 6,264,738,220,826 | 79.53% | 12,760,014.8879 | 25.32% |
| Last 4 Weeks | 40,320 | 10,429 | 10,424 | 5 | 0.05 | 48,562.0085 | 33,175,003,263,766 | 27,035,361,416,837 | 81.49% | 52,120,103.2895 | 25.85% |
| The Past 12 Months | 483,840 | 131,529 | 131,471 | 58 | 0.04 | 39,644.9986 | 341,584,616,710,475 | 280,730,261,584,139 | 82.18% | 657,355,612.4410 | 27.17% |
Block
Validity
Finder
Time
Difficulty
Amount
Expected Shares
PPLNS Shares
Actual Shares
Percentage
481366

Confirmed

anonymous
12/07/2018 17:11:17
59,506.7788
5,000.0000
3,899,836,256
0
660,387,760
16.93
481365

Confirmed

Marvell9
12/07/2018 17:10:24
59,276.8168
5,000.0038
3,884,765,465
0
1,878,945,305
48.37
481363

Confirmed

bear-x
12/07/2018 17:09:04
58,957.0305
5,000.0000
3,863,807,953
0
3,915,170,507
101.33
481358

Confirmed

limpador
12/07/2018 17:04:10
58,787.5628
5,000.0015
3,852,701,713
0
2,825,063,800
73.33
481353

Confirmed

Dzabelyn
12/07/2018 17:01:34
58,923.0589
5,000.0005
3,861,581,585
0
2,103,456,392
54.47
481350

Confirmed

Vadzzz
12/07/2018 16:59:14
58,646.2812
5,000.0047
3,843,442,687
0
2,597,120,936
67.57
481348

Confirmed

anonymous
12/07/2018 16:56:28
59,701.1643
5,000.0010
3,912,575,504
0
6,748,507,566
172.48
481343

Confirmed

ggsuprnova2
12/07/2018 16:49:51
59,530.6983
5,000.0016
3,901,403,844
0
3,108,483,718
79.68
481339

Confirmed

MagicMinerM
12/07/2018 16:46:48
59,422.8006
5,000.0000
3,894,332,661
0
1,532,344,849
39.35
481337

Confirmed

armin826
12/07/2018 16:45:44
59,925.2384
5,000.0045
3,927,260,423
0
2,078,744,576
52.93
481335

Confirmed

3ton
12/07/2018 16:43:28
59,765.1331
5,000.0000
3,916,767,763
0
126,341,370
3.23
481334

Confirmed

anonymous
12/07/2018 16:42:40
59,775.9466
5,000.5029
3,917,476,433
0
2,143,450,833
54.72
481332

Confirmed

usd_lol
12/07/2018 16:41:02
59,184.5133
5,000.0010
3,878,716,263
0
1,254,938,381
32.35
481331

Confirmed

OMG676
12/07/2018 16:39:35
59,292.3651
5,000.0009
3,885,784,441
0
4,078,039,199
104.95
481326

Confirmed

mkakorin
12/07/2018 16:36:04
59,822.5724
5,000.0000
3,920,532,102
0
211,499,257
5.39
481325

Confirmed

anonymous
12/07/2018 16:35:14
59,614.9820
5,000.0000
3,906,927,457
0
907,892,260
23.24
481323

Confirmed

CryptoLucas
12/07/2018 16:34:40
60,022.3850
5,000.0089
3,933,627,025
0
2,611,213,978
66.38
481321

Confirmed

Kubanac
12/07/2018 16:31:16
60,135.8409
5,000.0000
3,941,062,472
0
708,433,613
17.98
481320

Confirmed

vonboss
12/07/2018 16:31:04
60,246.3460
5,000.0008
3,948,304,531
0
1,283,913,588
32.52
481319

Confirmed

ship795
12/07/2018 16:29:58
61,701.2665
5,000.0133
4,043,654,203
0
5,909,665,326
146.15
Totals
78,134,560,781
0
46,683,613,214
59.75